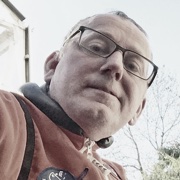 The internet of plants
Tim Wright, National Film and Television School
15:30
Boundaries stage
A talk about trees and plants, plant intelligence, the future "internet of plants" - and how we might work with the plants (both virtual and real) to tell stories and "write" in new ways.
Tim Wright is a digital writer and crossplatform producer who specialises in interactive drama and storytelling. His work has ranged from the BAFTA-winning webcam + email drama 'Online Caroline (2000) to the recent BBC R&D Amazon Echo play 'The Inspection Chamber' (2018).
His personal web + radio fiction 'In Search of Oldton' was nominated for the Imison Award (2007). He was lead writer on the RSC's Twitter play 'Such Tweet Sorrow' (2010), and digital producer for Coney's NESTA funded interactive theatre experiment 'Better Than Life' (2014). Tim has also helped to develop major programmes, crossplatform campaigns, websites and digital strategies for big media & cultural organizations such as the BBC, CBBC, Channel 4, 4iP, MSN, Sky, The Science Museum, The RSC, Royal Opera House, Orange and Sony.
He's currently working with The Other Way Works on the immersive theatre project 'A Moment of Madness', co-presents the literary podcast 'Curiously Specific', and also leads the Creative Producing for Digital Platforms (CPDP) course at the National Television & Film School (NFTS).

Where: Academy London
When: 7 February 2020
Confluence is in partnership with Academy London, Google's dedicated learning space in Victoria