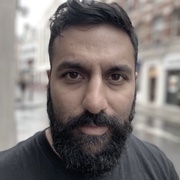 Get out of the newsroom
Ravin Sampat, Tortoise
14:00
Business stage
Ravin is an innovative executive producer/journalist with 10 years experience working in news and digital media. Previously, he was the executive producer for BBC Stories – the BBC's first digital current affairs strand, where he built an audience engagement team for Digital Current Affairs. Ravin also worked as a senior broadcast journalist for BBC News and created the first Snapchat documentary for BBC Panorama as well as developed a number of new storytelling formats for BBC News and Current Affairs.
He was identified as an "Emerging Leader" on the first BBC News Leadership programme. Before joining BBC, Ravin led the team behind NewsPoint, a digital newsgathering operation in London. His responsibilities there included finding the best user-generated video and picture content for breaking news stories, reporting on international news using social media content and acquiring and managing rights to content for clients. He also led the team that manages rights for UGC content on YouTube, helping users monetise their video when used for broadcast and across news websites.
He was previously the editor of the award-winning citizen journalism site Blottr.com and has used social media for newsgathering to cover the Arab Spring, the London Riots, the Oslo shootings, the Mumbai bomb attacks, the Syria conflict, the Boston Marathon bombings and various other breaking news events around the world.
Ravin is now Head of Storytelling at slow news startup Tortoise

Where: Academy London
When: 7 February 2020
Confluence is in partnership with Academy London, Google's dedicated learning space in Victoria