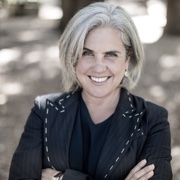 Voice of the future
Maja Thomas, Hachette
10:45
Business stage
What does the skyrocketing popularity of audiobooks, podcasts and voice assistants tell us about how we will tell stories in the future? Will voice make technology disappear and bring humans and machines into more intimate conversations? Is Voice the new universal interface?
Maja Thomas, a multiple Spoken Word Grammy award winning producer and director, and the Chief Innovation Officer for Hachette, will share her view on the oldest and newest ways we communicate.
Maja Thomas is the Chief Innovation Officer of Hachette Livre, one of the largest book publishers in the world, and the Director of the Hachette Innovation Program, focusing on the intersection of publishing and digital innovation.
Maja works internationally across divisions and sectors, facilitating collaboration with start-ups and established global players, to get books into the hands, phones, and ears of readers. The team she leads aims to accelerate digital transformation by creating experiments with augmented reality, tap to read interfaces, social messaging platforms, bots, and voice assistants. Her team also uses the design thinking process to help publishers be more reader and consumer centric, and pilots novel uses for artificial intelligence, machine learning, and big data in publishing.
Earlier in her career she operated as an intrapreneurial executive, managing teams that created award-winning audiobooks, ebooks, and applications. During a period of dizzying transformation, Maja helped publishers navigate new territory, leading business development and strategy, and negotiating innovative partnerships with global players such as Google, Amazon, and Apple.
Maja has won six Grammys as a producer and director in the Spoken Word category for Adults and Children, as well as Comedy.

Where: Academy London
When: 7 February 2020
Confluence is in partnership with Academy London, Google's dedicated learning space in Victoria