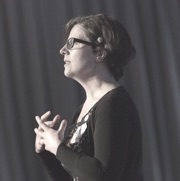 Make Our Book: a new kind of author, a new kind of publisher
Emma Barnes, Consonance
16:45
Life's A Beach
It's often unfair being a kid. Everyone tells you what to do, what to think, what to read. Make Our Book puts storytelling control in the hands of children by publishing real, high-quality books of their work — so, often for the first time, they see their work matter to the same degree as adults'.
In this session, Emma might talk about this and the other benefits of Make Our Book, and how the web app came to be: as a side project with no investment, no team, and within 6 weeks.
But in a meta-twist, the session itself will be an interactive story, where she will invite audience members to "Choose Your Own Presentation" on their phones, on a voting web app she wrote in a single afternoon, just for this session. It's a fun way to deliver a somewhat democratically-approved talk, which she hope acts as another example, like Make Our Book, of the sort of experiment that could happen if everyone in publishing could quickly magic up apps without having to brief anyone, or pay an agency.
@makeourbook https://makeourbook.com
Emma is a seasoned publishing innovator, founder of indie publisher Snowbooks, publishing workflow platform Consonance, and most recently the instantly profitable education-focused side-project Make Our Book

Where: Academy London
When: 15 February 2019
Confluence is in partnership with Academy London, Google's dedicated learning space in Victoria