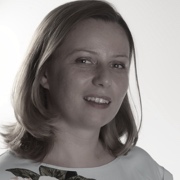 From ASOS to Zoopla: discoverability strategies from around the web
Candide Kirk
14:30
Life's A Beach
From books to games to a digital listing of a piece of clothing, why is some content more successful at floating to the top of the pile than others? What strategies are digital storefronts deploying to ensure their audience find what they're looking for? Is there a magic formula that creators can follow to ensure discoverability of their content? Join us in an interactive session to explore what works, what doesn't, and what could inspire your next story to find its virality.
Candide is the founder of Novellic, a book club app and personalized, curated book store. She is also the co-founder of Quirkat, an independent multiplatform video game development studio with over 12 years of game design and production under her belt. With her experience in digital distribution, new platform discoverability, and self-publishing Candide is bringing best practices from the video game industry into the digital publishing world. She is working with publishers to discover new media and consumer channels, evolving digital business models that can be adapted to books, and how technology that has been developed for other industries can be made to work for the enhancement of the reader's experience.
Candide has published articles on The Bookseller and Digital Book World, and was a finalist for the Digital Innovation Award at the 2018 London Book Fair.
Candide designed and lead the development of 15+ published & self-published games including the TIGA Games Industry Awards finalist Pro Foosball, published by Sony Computer Entertainment (PlayStation) and WordBlocked, a PlayStation Mobile launch title critically received and scoring 9.5/10 by reviewers.

Where: Academy London
When: 15 February 2019
Confluence is in partnership with Academy London, Google's dedicated learning space in Victoria